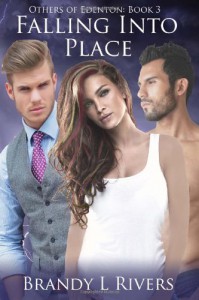 Robert would have done anything for Liz, even let her go when she claimed she needed to be alone. With his life in shambles, he dove into his work as a Silver Council enforcer.
Liz never fit in, but to protect her first love, she walked away when a wild burst of magic nearly killed him. Tremaine found her, and helped her put her life back together.
The man who tore her world apart awakes from a 21 year slumber with revenge on his mind. Nothing will stop James from tearing the power from Liz's body.
After learning James is alive, Robert rushes to Liz and bands together with Tremaine to keep her safe. Facing her worst fears Liz realizes she can only fall apart or fall into place.
Review 4*
I received a complimentary copy of this book in audio format from the author in return for an honest review.
This is the third book in the Others of Edenton series. I really enjoyed it!
This book is again narrated by Kelley Hazen Story Teller Productions. I enjoyed her narration but felt that there was something missing. I struggled to put my finger on what exactly the issue was until I started to write this review. Although she read the story clearly and gave each character a different voice, she seemed almost bored. Some of the story was told in monotone, and other parts were overly dramatic. This gave an uneven feel to the story and made it not flow as well as it should.
Liz is a wonderful character. She is a strong, independent woman, who has faced evil and survived (barely). She is a mage who has not had the easiest of childhoods. Now an old enemy re-appears after twenty-one years. With the help of Tremaine, her avenging angel, and Robert, her first love, Liz will have to find the strength to confront her fears and battle her demons in order to heal.
The story hooked me from the start and didn't let me go until it finished. There are various view points, though Liz, Tremaine and Robert have the most say. This story takes the reader though a roller coaster ride of emotions. The reader is taken back through time (over 70 years) to Liz's childhood where she is 12 years old and the horror she endured at the hands of a sick and twisted individual. It then jumps forwards in time in increments until present day and is told in two parts. This gives the reader a deeper understanding of the history between not only Liz, Tremaine and Robert, but James and his twin sister Emily too.
I loved meeting the other characters too. Tremaine is a wonderful character. He is an enforcer for the Council who rescues Liz from a horrific situation when she was 12 and sends her to live with Wilhelm, his best friend, and his family. Robert, James and Emily are Wilhelm's children and are completely different in temperament and personality. Robert is 16 when we first meet him. He's charming and caring, and falls for Liz at first sight. Emily is jealous of Liz and never really accepts her as a friend. James is a nasty piece of work! He's a dark mage, who rips power out of other mages to fuel his own power.
As the cover suggests, this book is a menage. I haven't read many menage books, maybe a handful at that. However, this story, although erotic, is written in such a way that it makes sense for the two men in Liz's life to complete her. She has been shattered emotionally and put back together by each of them at different points in her life. This creates an unbreakable bond.
The story doesn't end in a cliffhanger, though it left me wanting to read the next book in the series, Breaking Free, as soon as I can.
Brandy L. Rivers has written an intriguing continuation in the series. I loved her fast paced writing style, and the flow was wonderful.
Due to explicit scenes of a sexual nature, I do not recommend this book to readers under the age of 18. However, I do recommend this book if you love hot erotic paranormal romances full of werewolves, vampires, fae, druids etc. - Lynn Worton